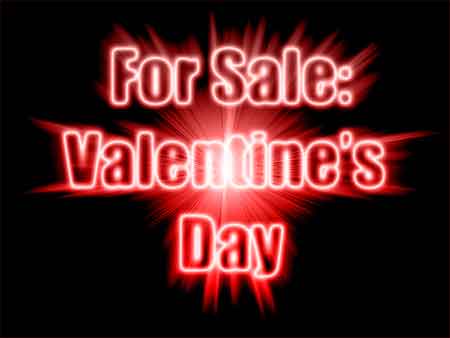 Editor's note: For Sale is a regular feature highlighting what the auction traffic is like on eBay in relation to particular events.
During Valentine's Day parties as a kid, I remember getting little handmade cards with those hard heart candies glued/stuck to them. We all got those, right? But for the life of me, I can't remember what we used to glue the candies to the cards. Was there some groovy, edible glue we had to do that with, or were we all just slapping some Elmer's down and calling it good? Maybe we weren't supposed to eat the candy glued to the cards. But I did. Surely that doesn't happen now, or else Fox News would be running some expose about kids across the country getting deathly ill due to glue consumption. Parents thrown in jail for abuse, schools closed by lawsuits, and the complete and utter collapse of the entire hard heart candy business in America. All because of a little glue. Thank goodness things have changed.
If that didn't warm your heart, we'll put one more nail in the romantic coffin with some throughts from Brian Alexander at MSNBC on those romantic myths we all hold so dear.
The truth, though, is that while knights may have sworn vows of chaste love to their ladies, in real life they often went around raping the village girls.
Now, on to the stats:
28,153 active listings feature the term Valentine.
133,656 completed (sold and unsold) listings featuring the term Valentine.
And for that special woman in your life that hates men, buy her this pig.
As always, any links to eBay items will eventually die when eBay removes them from its servers. Any statistics may change within just a couple of hours.
Tags: For Sale · Valentine's Day1 Comment - Follow the string