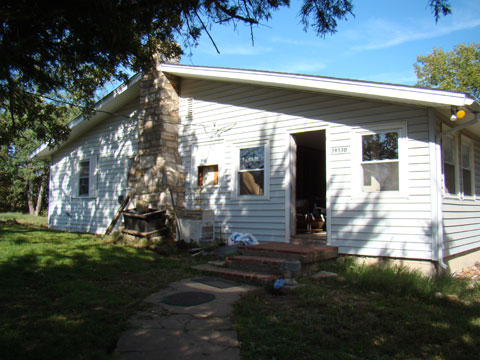 The ladytheorist and I finally found a house we liked and that was in our price range. Yah! It's a 108-year-old rather run-down farmhouse a couple of miles outside of Eudora. The house needs a bunch of work, but the property rocks. It sits on a couple of acres of land and looks north over the Kansas River.
It will be a wonderful home for us once we're done with it.
I miss the country some days. Mostly I miss the sound and the stars. Though I've grown increasingly cynical over the years, I've never lost the childlike wonder of staring up into the heavens. A few evenings ago, I was locking the place up for the night and loading my car to head back to town. I glanced up at the sky. I forget sometimes how beautiful the night sky is. My friend Ryan used to say, "Sure you can see the stars in the city, you can even count them."
I miss not being able to count the stars.
Okay, enough waxing poetic, below are some of the early pics. I'm going to try and put up one post a week updating the work we're doing. Let me know what you think!